HOME
-::-
Tour with People, Places & Traditions
Tour with People, Places & Traditions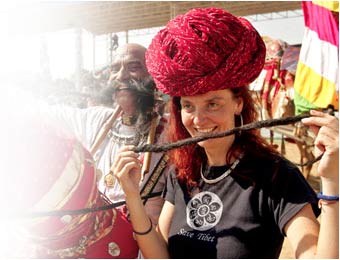 India
is a spiritual land, a land where the religion and philosophy have attained their cultivating points. India travel is very special because India has a very rich and dynamic culture that attracts every traveller. India is like a reward to every traveller who explores this mysterious country.


India culture
is like the Indian food, rich and diverse. Rivers, seas, mountains and deserts create an interesting puzzle that makes India Travel an unforgettable experiance. India is a vast subcontinent bringing together people of different languages and numerous dialects. In each region people embrace their own languages and beliefs, making India a land full of history and tradition. It is true that the
India History
begins thousand years ago. India travel is a fascinating experience and nobody can doubt it.

We have suggested here some of the most popular itineraries taken by our clients and we have also incorporated their valuable suggestions. However you can always customised this itineraries as per your requirement.
We have not placed the prices here as it is season dependent.

Itineraries
Destination Covered:
Delhi, Jaipur, Jodhpur, Bharatpur, Bandavgarh, Kathmandu, Chitvan
Destination Covered:
Delhi, Agra, jaipur, Udaipur
Destination Covered:
Mumbai, Aurnagabad, Banglore, Mysore, Ooty, Madurai, Chennai, Heydrabad, Delhi
Destinations Covered :
Delhi, Sariska, Jaipur, Agra, Khajuraho, Varanasi
Destinations Covered :
Delhi, Agra, Jaipur
Destination Covered:
Delhi, Agra, Pushkar, Jaipur, Udaipur, Bhuj, Mumbai
Destination Covered:
Colombo, Kandy
Destination Covered:
Sigiriya, Kandy, Peradeniya, Colombo
Tour with People, Places & Traditions Booking Form