HOME
-::-
Golden Triangle - Glimpse of India
Golden Triangle - Glimpse of India
---
Duration :
05 Nights / 06 Days
Destinations Covered :
Delhi - Agra - Jaipur
---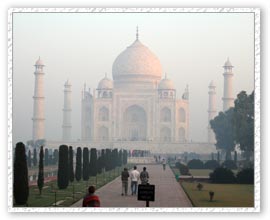 The long history of India has left as, superb monuments ranging from temples of various ages, frescoed caves, numerous forts and palaces, mausoleums like the unmatched Taj Mahal.
The legendary Taj has to be seen to be believed. If one misses the Taj Mahal in this lifetime, one must be reborn to see it - said a famous poet. The golden triangle promises you paradise on earth- here and now - taking you as it does from the regality of British Raj, to the splendor of the mughals in Delhi, Agra and Fatehpur Sikri, on to a riot of colors of the Rajput kingdom of Jaipur.
Day 01: Delhi
Arrive Delhi, Welcome and assistance upon arrival at the airport. Later transfer to the hotel.

Day 02 : Delhi
Morning free to relax and adjust to the time zone. Afternoon city tour of Old & New Delhi.
Old Delhi - Visit Jamma Masque (1650 AD). Drive through fabled Chandni Chowk (Silver Street) and visit Red Fort (1639 - 48 AD) built by builder of Taj Mahal - Emperor Shahjehan and famous for its delicately carved inlaid and marbled royal chambers. Raj Ghat where father of the nation memorial museum, Firoz Shah Kotla (1354 AD) ruins of the fortress and the Ashok Pillar (300 BC).
New Delhi - Visit Humayun's Tomb (1565 AD) aptly called predecessor of Taj Mahal. Drive past Safdarjung's Tomb (1753 AD), 72 meter high Qutub Minar (12th Century AD) - One of the most perfect towers in the world, nearby amidst the ruins of Quwate-Islam mosque stands the iron pillar which does not rust and has stood the vagaries of weather for 1500 years. Orientation drive through New Delhi viewing Embassy area (Diplomatic Enclave); Government Buildings ( 1921 -30 AD), Central Secretariat, Parliament House, Visit India Gate (1921 AD).
Day 03: Delhi - Agra
After breakfast at the hotel drive to Agra ( Apprx. 4 hours ) . Upon arrival check-in at the hotel. Afternoon city tour of Agra.
Visit the magnificent Taj Mahal (1653 AD). For majority of tourists visit to India is incomplete without seeing the wonderful Taj Mahal. Moghul emperor Shahjehan built this white marbled monument in the memory of his beloved wife Mumtaz Mahal. Semi precious stones are intricately inlaid into the marbles in various patterns showing an impressive craftsmanship. Other important monument is Agra fort with its Moti Masjid (Pearl Mosque), Dewan-e-Aam, Dewan-e-Khas, octagonal tower Jehangir Palace - famous for its Hindu Persian architectural style. (Taj Mahal closed on Friday). Overnight at the hotel.
Day 04: Agra - Fathepur Sikri - Jaipur
After breakfast at the hotel, drive to Jaipur ( Apprx. 5 hours ) Via Fatehpur Sikri.
Fatehpur Sikri popularly known as the ghost town was once the capital of the Mughal Empire. Built by

Emperor Akbar in honor of Salim, it is said to be replica of mosque at Mecca.
Upon arrival check-in at the hotel. Afternoon free for independent activity. Overnight at the hotel.
Day 05 : Jaipur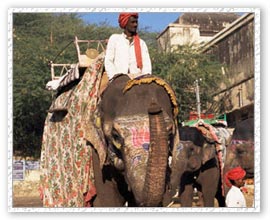 This morning after breakfast visit Amber Fort - you are transported back in time today, riding like royalty a top elegantly draped and painted Elephants, up into the high mountain Fortress of Amber.
Afternoon city tour of Jaipur visiting City Palace , Jantar Mantar and Hawa Mahal ( palace of winds).
The City Palace a blend of Rajasthani and Mughal architecture houses a museum containing rare collection of arts manuscripts, miniature paintings, armory of guns and swords more than 400 years old, costumes of former Maharaja (King) and maharani (queen) of Jaipur. Nearby is Jantar Mantar (1728 Ad) a perfect obserbvatory built by Maharaja Jaisingh with its 90 feet high sundial. Drive past Hawa Mahal palace of wind, which is also a landmark of Jaipur. Leisurely walk around Jaipur's vibrant and colorful bazaars rubbing shoulders with brightly attired and smiling Rajasthanis. Overnight at the hotel.
Day 06: Jaipur - Delhi
After breakfast at the hotel drive to Delhi ( Apprx.5 hours ). Upon arrival in Delhi , You will transfer to airport for your onward destination / Optional Extension tour.
Golden Triangle - Glimpse of India Booking Form