HOME
-::- Bandhavgarh National Park
Bandhavgarh National Park
---
| | | |
| --- | --- | --- |
| Location of Bandhavgarh | : | Umaria District, Madhya Pradesh |
| Nearest Access to Bandhavgarh | : | Umaria (34-kms) |
| Coverage Area of Bandhavgarh | : | 450-sq-kms |
| Climate of Bandhavgarh | : | Winter : varies between0°C and 20°C, Summer: 36°C - 46°C |
| Major Wildlife Attraction in Bandhavgarh | : | Tiger, Leopard, Sloth Bear , Chital,Sambhar , Nilgai, Chausingha, Dhole, Jackal, Indian Fox,Striped Hyena, Wild Boar |
| Best Time to Visit Bandhavgarh | : | Mid November to June |


Bandhavgarh National Park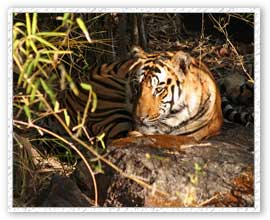 Bandhavgarh has an undulating landscape with around 32 hills some with flat plateaus and overhanging cliffs. Some perennial streams and rivulets crisscross this park creating fertile vegetation on the riverbanks. The area's combination of hills, rivers and valleys, meadows and marshes has created a unique biodiversity evident in the varied luxuriant vegetation. Bandhavgarh's forests are generally of the moist deciduous forest type. The sheltered valleys are covered with moist evergreen Sal forests, while the drier slopes and plains are covered in mixed forest. Dense tracts of bamboo are scattered throughout the valleys. The Chakradhara and Rajbehra meadows are two major meadows of this park.
Major Wildlife Attractions – Bandhavgarh

The chances of seeing a Tiger in Bandhavgarh is greater than in any of India's other forests. In summer's Tiger can quite often be seen at couple of major waterholes in the park like Chakradhara, Gopalpur, Jurmani and Barwanala. Other important cats in Bandhavgarh are Leopard and the jungle cat. As many as 37 species have been listed for this park including 3 types of antelopes - Blue Bull, Chinkara and the Chausingha. Deer species like Chital,Sambhar , Barking Deer, 4 species of bats, 2 types of squirrels, Indian Pangolin, Indian Porcupine, Palm Civet , Rare Indian Wolf, Indian Wild Dog, Ruddy and Common Mongoose, Honey Badger, Jackal, Wild Boar, Indian Hare, Common Langur and Rhesus Macaque.
The park also has over 70 species of butterflies and around 255 species of birds. It provides ideal habitat for various species of Stork ( White-necked & lesser Adjutant), Hornbill (Malabar Pied & Common Grey), herons, cranes and birds of prey likeCrested Hawk, Crested Serpant Eagle, Honey Buzzard, Shikra, Lesser Kestrel. In winter Bandhavgarh attracts large number of migratory birds such as Nakta, Lesser Whistling Teal and Ruddy Shelduck. One can also see smaller birds like Gery Tit, Baya Weaver bird, Spotted Munia, the Green and Bearded Bee-eater, flycatchers and three species of parakeet- Alexandrine, Plum Headed and Rosering.
Wildlife excursion in the National Park:
A visitor can do the jungle excursion by hiring a open 4x4 jeep. The excursions are undertaken during the morning's and the evening's. A forest department guide is always there with the visitors on these jeep trips taken inside the park. Elephant rides are organized during the tiger show's once a tiger is sighted.
Wildlife Safari Timing
Winter Timing
Morning Safari: Sunrise – 1030 hrs
Evening Safari: 1500 hrs – Sunset:
Summer Timings:
Morning Safari: Sunrise - 0930 hrs
Evening Safari: 1600 hrs - Sunset

How to be at Bandhavgarh National Park
Air:
Khajuraho at 230-kms is the most convenient airport connected by various domestic airline services with Delhi, Varanasi. Jabalpur has been recently added in the list of airports close to Bandhavgarh with regular flights of Deccan airlines.
Rail:
The nearest railhead Umaria at 34-kms, Katni 100 kms, Satna 125 kms and Jabalpur 180 kms.
Road:
Bandhavgarh National Park is situated on the Satna-Umaria & Rewa-Umaria highway. Some of the important road distances are:
Khajuraho (via Satna)260-kms, Katni 100-kms, Rewa 115-kms, Umaria 34-kms, Kanha 210-kms
Bandhavgarh National Park Booking Form