HOME
-::-
The Royal Journeys
The Royal Journeys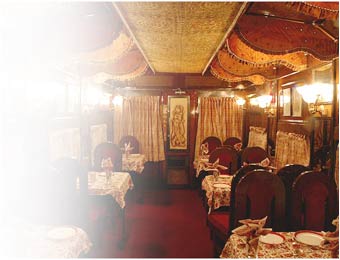 Against the backdrop of dusty land and sun-soaked skies, Rajasthan is filled with opulent colours, the sparkle of mirror and silver and precious stones, and the sheen of silk and vivid kaleidoscope of cotton. The exotic and vividly colorful state of Rajasthan is synonymous with majestic forts, stately palaces, lakes, sand dunes, camels and people dressed in brightly coloured costumes.
To add a dash of colour and life to the barren, colorless landscape and the monotonous, cloudless sky, the people of Rajasthan show a distinct preference for bright costumes. From the simple village folk or tribal belle to the royalty, the preferred colours are bright red, dazzling yellow, lively green or brilliant orange, highlighted by a lavish use of sparkling gold and silver 'zari' or 'gota'.
We have suggested here some of the most popular itineraries taken by our clients and we have also incorporated their valuable suggestions. However you can always customise this itineraries as per your requirement.

We have not placed the prices here as it is season dependent.
Itineraries
Destination Covered:
Delhi, Pushkar, Jaipur, Udaipur, Jaisalmer, Agra, Bharatpur
Destination Covered:
Delhi, Agra, jaipur, Udaipur, Jaisalmer, Bikaner, Jodhpur
Destination Covered:
Delhi, jaipur, Udaipur, Jaisalmer, Bikaner, Jodhpur
Destination Covered:
Delhi, jaipur, Udaipur, Jaisalmer, Bikaner, Jodhpur, Kota
Destination Covered:
Delhi, jaipur, Udaipur, Jaisalmer, Jodhpur, Bikaner
Destinations Covered:
Delhi, Jaipur, Jaisalmer, Jodhpur, Sawaimadhopur, Chittaurgarh, Udaipur, Bharatpur, Agra, Khajuraho, Varanasi
Destinations Covered:
Delhi, Madawa, Bikaner, Jaisalmer, Jodhpur, Ranakpur, Udaipur, Jaipur, Agra
Destination Covered:
Delhi, Agra, jaipur, Udaipur, Jaisalmer, Jodhpur, Bikaner
The Royal Journeys Booking Form