HOME
-::-
Textiles & Handicrafts of Gujarat
Textiles & Handicrafts of Gujarat
---
Duration
: 09 Day / 08 Nights
Destination
: Ahmedabad, Gondal, Jamnagar, Kutch, Zainabad, Patan, Danta, Ahmedabad
---
Day-1: Ahmedabad
HIGHLIGHT:
Textile and folk art museums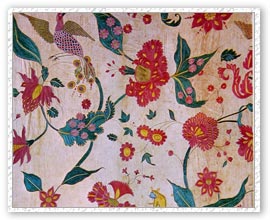 Arrive in Ahmedabad and stay at House of Mangaldas, a heritage hotel. Called the `Manchester of India' for its textile mills, Ahmedabad has India's largest textile museum, Calico Museum. The extensive collection of historic textiles includes good examples of ikkat and double ikkat weaving, textiles made in Gujarat for the East India Company and the Portuguese colonial market, tie-and-dye, block prints, cloth paintings, cloth manuscripts, temple hangings, royal wardrobes, embroidered tents, etc. Other museums too have good examples of Gujarat's textile traditions.
Day-2: Ahmedabad/ Gondal (250 km: Approx 5 hours)
HIGHLIGHT:
Beadwork
Drive to Gondal, about five hours from Ahmedabad, and stay in a heritage hotel decorated with pieces from the Maharani's private collection of beadwork and other textiles. Visit the impressive 1748 AD Naulakha Palace, housing beadwork, brassware and silver handicrafts from the princely collection, cottage industries, emporia, and the bazaar. Other highlights of Gondal are the Bhuvaneshwari Ayurvedic herbal medicine pharmacy, Swaminarayan Temple and the Vintage and Classic Car Museum.

Day-3: Around Gondal
HIGHLIGHT:
Screen printing at Jetpur
Day trip to Jetpur, known for its screen and block printing factories, and Junagadh, where the palace museum houses a rich collection of carpets of the erstwhile Nawab. Junagadh also has an ancient fort, 19th century mausoleum complexes and Buddhist cave sites.
Day-4: Gondal/ Jamnagar
(110 km)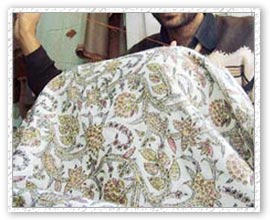 HIGHLIGHT:
Rashtriya Shala weaving institute at Rajkot, bandhini tie-and-dye at Jamnagar
Depart for Rajkot where you can visit the Rashtriya Shala, an institute working to revive rare weaves. Proceed to Jamnagar.
Day-5: Jamnagar/ Kutch (250 km)
HIGHLIGHT:
Anjar metalwork and bandhini
Morning visit to the bandhini tie-and-dye workshops in Jamnagar, then depart for Anjar, known for metalwork and tie-and-dye.
Day-6 & 7 Kutch District
HIGHLIGHTS:
Various embroidery styles of different communities of Kutch, weaving, block-printing, etc.
Visit the villages of Jaths, Rabaris, Sodha Rajputs, Muthwas and Ahirs known for their embroideries, the Khatris (block printers) and Vankars (weavers).

DAY-8: Kutch/ Zainabad (275 km)
HIGHLIGHTS:
Embroidery
At Zainabad, visit the Rabari and Bharwad pastoral colonies, where girls work on embroidery for their trousseau and wives for a second income, weaving centres and craft co-operatives.
DAY-9: Zainabad/ Patan/ Danta(250 km)
HIGHLIGHTS:
Patola double-ikkat silk weaving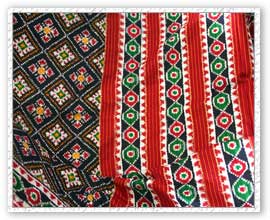 After breakfast, drive to Patan. Visit the Salvis of Patan who are famous for their double ikkat Patola silk weaving. Overnight at Danta.
DAY-10: Danta - Ahmedabad/ Departure
Leave for Ahmedabad to connect with your return flight.
Cultural India Tours Booking Form