HOME
-::- Keoladeo National Park (Bharatpur)
Keoladeo National Park (Bharatpur)
---
| | | |
| --- | --- | --- |
| Location of Bharatpur | : | Bharatpur, Rajasthan |
| Nearest Access to Bharatpur | : | Bharatpur |
| Coverage Area of Bharatpur | : | 29-sq-kms |
| Climate of Bharatpur | : | Summer Max. 48°C. Winter Min. 6 °C . |
| Major Wildlife Attraction in Bharatpur | : | Migratory Birds, Sambhar, Chital, Nilgai, Boar. |
| Best Time to Visit Bharatpur | : | August-November for resident breeding birds and October- February for migrant birds. |
Keoladeo Ghana National Park
(Bharatpur)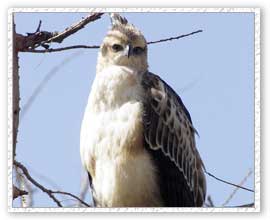 It is one of the finest birding areas in the world, Bharatpur Bird Sanctuary (Keoladeo Ghana National Park) is a reserve that offers protection to zoological species as well. It is the habitat of water- birds as well as migratory water birds and waterside birds, this sanctuary is also inhabited by Sambhar, Chital, Nilgai and Boar.
The park has been declared as a world heritage site. It got its name as Keoladeo Ghana Park on account of an ancient Hindu temple at the centre of the national park devoted to Lord Shiva. The term 'Ghana' is derived from Hindi, which means dense and refers to the thick forest, which covers the entire area. Bharatpur became a national park on 10 March 1982, and was given the status of aWorld Heritage Site in December 1985
The Bharatpur Bird Sanctuary is the only wildlife sanctuary in India that is artificially made by a Maharaja. The foundation of this Bharatpur wildlife sanctuary was laid in 1760 when the Maharaja of Bharatpur made an artificial lake and the dam at this very site to store the water brought by the annual floods in this area. Over 300 bird species are found in this 29-sq-kms-wildlife park of divided into the stretches of marshes, scrubland and grassland.

Major Wildlife Attractions:
Indeed, this place is correctly identified as the pleasant niche of the migratory birds and not surprisingly the home of the world's most diligent bird watchers. Therefore, this is one of the most important breeding & feeding grounds for migratory birds in the world.
More than 377 species of birds have been spotted at the Bharatpur Bird Sanctuary in Rajasthan, India. An ornithologists' paradise, the Bharatpur Bird Sanctuary in Rajasthan, India offers unbelievably beautiful vistas with birds dominating the entire landscape. Watch a variety of water birds, domestic land species and migratory birds at the Bharatpur Bird Sanctuary.
The major attractions of tourists visiting the park are the numerous migratory birds, which come from as far away as Siberia and Central Asia and spend their winters in Bharatpur, before returning to their breeding grounds. Migratory birds at Bharatpur bird sanctuary include, several species of Cranes, Pelicans, Geese, Ducks, Eagles, Hawks, Shanks, Stints, Wagtails, Warblers, Wheatears, Flycatchers, Buntings, Larks and Pipits, etc.
The artificial basins at the Bharatpur Bird Sanctuary offer the perfect habitat for exotic water birds. Wildlife at the Bharatpur Bird Sanctuary also includes boars, sambar, otters, chital, foxes, fishing cats, frogs, water snakes, snails, turtles and fishes.
There are well-defined forest trails, which can easily be covered on foot or on a cycle or you can also hire a rickshaw that are available on hire. Rickshaw pullers have been trained by the park management in bird watching and are quite knowledgeable. Boats are also available on hire. An early morning boat trip or a late evening one is quite a rewarding experience to check out the hidden surprises of Bharatpur.

How to be at Bharatpur Wildlife Sanctuary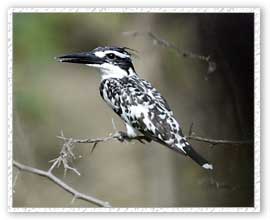 Air :
Nearest airport Agra (56 kms) from Bharatpur, Agra has daily flights for Delhi, Varanasi (via Khajuraho) One can also drive down to Delhi (4 hrs) to connect with flights to all over India and abroad.
Rail :
Regular rail services connect Bharatpur with all the major cities of India such as Delhi, Mumbai, Jaipur and Agra. The Bharatpur railway station is 6-kms from the park
Road :
An excellent network of roadway services connect Bharatpur to all the major cities of the Rajasthan and its neighbouring states like Delhi, Uttar Pradesh, Haryana. Bharatpur is well connected by road from Agra (56-kms, 5 hours), Delhi (176-kms, 4 hours) and Jaipur (176-kms, 5 hours), all of which have airport facilities too.
Tour Packages for Bharatpur
Only 180 Kms from Delhi and 52 kms west of Agra and the Taj Mahal, Keoladeo Over 400 species of birds find a refuge in the 29 Sq Kms of shallow lakes and woodland which make –up the park. A third of them are migrants many of whom winter in Bharatpur before returning to their breeding grounds as far away from Siberia and Central Asia.
The park is open throughout the year although most visitors choose to come between the months of October & March when wintering wildfowl assemble in their thousands on the lakes.
Keoladeo National Park (Bharatpur) Booking Form