HOME
-::- Horse Safari India
Horse Safari India
---
Duration : 7 Nights / 8 days
Places Covered : Jodhpur - Luni - Bishnoi - Rohetgarh - Kotri Raola - Rawla Narlai - Ghanerao - Kumbhalgarh Wildlife Sanctuary - Kumbhalgarh Fort - Deogarh - Udaipur
---

We offer five different horse safaris of varying lengths. While each ride takes its own particular path and has its own atmosphere, the trip essentials are common to all. Here we hope to answer all the questions you might have about joining us in India
Your horses and tack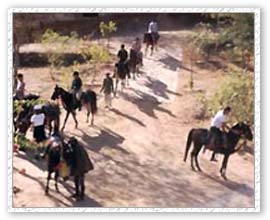 You will be riding on pure-bred Marwaris, which are different in nature and build to British horses. Each mount is chosen to suit riders from the 22 bred and stabled at Roop Niwas Palace. The traditional battle horse of Rajasthan, Marwaris are lean, strong and spirited, with tremendous stamina for long-distance endurance riding; they can cover many miles at a trot or slow canter, Their ears are crescent shaped and point inwards, giving them their distinctive appearance.
Average height 14-15hh, Marwaris are excellent weight carriers Three horses share one groom who tacks up, feeds, waters and brushes them each day; in the evening horses are encouraged to roll in the warm sand -an invigorating massage for tired joints.
We use the comfortable and strong Indian cavalry 'Sawar' saddles -as kind to the horse as to the rider.
Your accommodation
The camp is luxurious and colourful spacious oriental Moghul-style tents in bright colours form a large circle around the camp fire, Each tent contains beds with firm, cotton-stuffed mattresses, white linen, quilts, blankets, pillows, mosquito nets -and hot water bottles for cold nights, The floor is fully covered in soft dhurri rugs; tents are lit with kerosene lamps.
Loo and bath tents are sentry box-type units with a covered roof and zips, The bath tents have wooden floors and hooks for clothes; the Loo tents contain a sturdy and comfortable commode over a pit. Hot water for baths is heated by fire morning and evening. Also provided is soap, towels; mirrors and a wash basin.
Your meals
All food is freshly prepared in the kitchen tent by our excellent chef . A variety of Indian dishes (part vegetarian) are cooked each night; western-style food is also available. The dining tent is furnished with table and chairs. Lunches are a cold buffet with plentiful fruit and water, laid out to greet the riders mid-trek.
Your ability
Much of the trail allows for some fast riding, therefore you should be a competent rider. If you feel unsure about your ability, please call us.
Your group
Each ride keeps a varied pace to accommodate the group's abilities. Maximum group size is 12 (unless customized for private groups, where it could be as small as 2), together with leader, flag bearer and one or more outriders depending on numbers.
A complementary holiday for the 8th person in a private group of 8 or more.
Non-riding partners
You will travel with Thakur Durga Singh in a comfortable WW II-design Jeep, visiting places of cultural interest en route to the lunch spot. Eat and relax with the riders, then arrive early in camp with time to unwind or explore. Ideal for birdwatchers, artists and walkers.
The Rides
Our five horse safaris explore the colourful heart of rural Rajasthan at a forward-going pace, riding through farmland, forest, semi-desert and mountain foothills. You might be more interested in architecture than wildlife; you may wish to stay in palaces rather than sleep in a tent. You might prefer a private ride to a group ride. Rides A, B & C are group safaris with fixed dates; D & E are tailor-made for private groups and individuals; C can accommodate both. Here we help you choose the right ride to suit your stamina and tastes.

RIDE A ( Balotra Horse Fair Safari
)
Ride from Jodhpur to the heartland of the Marwari horse for India's biggest rural horse and cattle fair 12 nights, 13 days (5 full & 4 half riding days)
ROUTE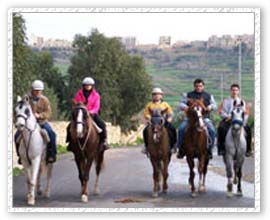 After an afternoon's escorted sightseeing and overnight stay in a three star Delhi hotel, fly to Jodhpur on the eastern fringe of the Thar Desert to spend tv/o nights in a heritage hotel owned by the grandson of a Maharajah. Here you explore Jodhpur's forts and palaces as well as choose and get to know your horse, riding out around the groom's camp.
The safari starts on day four just outside the city: you will be riding through open countryside, farms and villages, while spending nights in a luxurious traveling camp. After five days' riding you reach the spectacular and untouristed Balotra Fair -thousands of animals, owners and colourful market stalls camped along a dry river bed. Your camp has a great vantage point from the banks of a river one mile distant, For two days you ride locally morning and evening, spending afternoons exploring the fair. Your last morning will be spent riding around the fairground, before being transferred back to the Jodhpur hotel for dinner. The trip ends with an evening flight back to Delhi to join your international flight home.
RIDE B ( Pushkar Camel Fair Safari )
An exhilarating ride through ever-changing semi-desert landscape to the famed camel and cattle fair 13 nights, 14 days (8 full & 3 half riding days)
ROUTE
After an afternoon's sightseeing and a night in Delhi, you are transferred to Roop Niwas Palace in Nawalgarh (6 hour drive). Here you spend three days relaxing and getting to know your horses, riding out around the Palace with your royal hosts and exploring the painted Haveli houses of Nawalgarh.
The safari begins on day five, riding to the foothills of the Aravali mountains (a place of Hindu pilgrimage) and setting up camp in and around an atmospheric old guest house for pilgrims. From here on you will be sleeping under canvas in our luxurious travelling camp, as the ride takes you through semi-desertous farmland, across a vast salt lake and along mountain ranges to the holy villageof Pushkar, surrounded by orchards and rose farms (reached on the eighth day of riding) Staying two nights at a permanent tented camp you will ride morning and evening, spending the rest of your time at the fair watching camel racing, livestock trading and other ritual festivities.
On the last day of your trip transfer to the historic 'Pink City' of Jaipur for a day of escorted sightseeing. Evening flight to Delhi to connect with your international flight home.

DATES
02 November 2005
RIDE C
( Shekhawati Forts and Castle Safari )
A richly rewarding cultural tour, from palace to fort to farmhouse on horseback. No camping 9 nights, 10 days (6 full & 2 half riding days)
ROUTE
After an afternoon's sightseeing and night in Delhi, you are transferred to the Roop Niwas Palace in Nawalgarh, Rajasthan (6 hour drive through picturesque villages and farmland) for two nights. Here you spend time getting to know your horses, riding out from the Palace and learning about the region from your royal hosts.
On day four your safari begins: from Roop Niwas you ride through tranquil, semi-desert farmland to the characterful Dunlod Fort where you stay as special guests. The next day takes you to the imposing Mandawa Castle; then onwards to Mehansar Fort; then to the Desert Resort built in the style of a typical Rajasthani village; finally to the atmospheric Naharsinghani Farm House, From here you ride back to the Palace where your journey began (following day transfer to Delhi for your return flight).
Throughout the ride you stop and explore places of interest, seeing fine examples of Shekhawati frescoes in palaces, forts and towns off the tourist trail.
DATE
August-March 2004/5 (private - minimum two riders)
16 August 2004 /05 (group)
Private groups of eight or more: eighth person goes free.
RIDE D ( Nawalgarh to Churu Safari )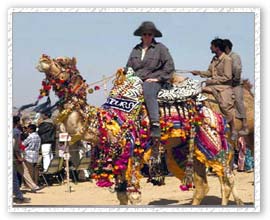 A shorter trail through stunning scenery and changing terrain, from farmland to desert to wildlife haven 8 nights, 9 days (4 full & 3 half riding days)
ROUTE
You will be transfered from Delhi airport straight to Nawalgarh in Rajasthan a 6 hour drive through picturesque villages and farms. At the Roop Niwas Palace your royal hosts will greet you and introduce you to the horses. For two days you get to know your mount, riding out each morning through the picturesque surrounding farmland, exploring the painted Haveli houses of Nawalgarh town in the afternoons.
The safari starts on day four, riding north through small farms towards the desert, where castles and temples provide an exotic backdrop. On the fourth day of the trail you cross high sand dunes into the old princely state of Bikaner, camping by a desert oasis where herds of gazelle come to water. Here you camp for two nights before a morning transfer to Delhi airport.
DATE
Flexible: Any time of the year 2004/5 (private)

Private rides -minimum riders four
Private groups of eight or more: eighth person goes free.
RIDE E
(
Shekhawati and Aravali Mountains Safari )
A short safari and palace stay giving a unique taste of the region's culture and landscape
7 nights, 8 days (2 full & 3 half riding days)
ROUTE
After an afternoon's sightseeing and a night in Delhi, transfer to Roop Niwas Palace at Nawalgarh (6 hour drive) where your royal hosts greet you. The next two days are spent riding out into surrounding farmland, exploring Nawalgarh town and unwinding at the Palace, Traditional puppet shows, dance, folk music and other surprises entertain guests every evening as dusk falls.
On day five the short safari begins, riding south-east along a sandy river bed with the blue Aravali mountains as a backdrop. Camp is set up in an acacia grove. The next day you ride into the mountains' foothills, spending the night in an atmospheric old pilgrim's guesthouse specially furnished with our camp equipment. After a stunning morning's ride along the Aravali ranges the safari ends: you are transfered back to your Delhi hotel before flying home the next day.
DATE
Flexible: August - April 2004/5 (private)
Private rides - minimum riders two.
Private groups of eight or more: eighth person goes free.
Horse Safari India Booking Form