Wildlife Tour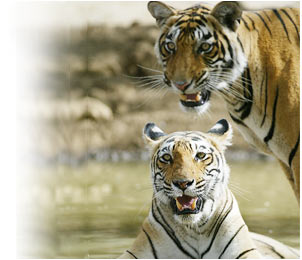 India the country of thousands facets has it all, from the huge forts to the furious oceans, from the snow capped peaks to the serene temples and from the dense jungles to crowded beaches and the bustling city life.
As the saying goes "Nothing lasts forever", But we can afford to differ here when we argue that some things definitely last forever. And it's nothing else but the memories of the precious wild and the creations of the Mother Nature that has helped mankind sustain so long.
Nature Safari is a small, personalized company that promotes nature tours and wildlife safaris in India. What sets us different from the rest is our knowledge of the local areas and the local team that helps our visitors feels more comfortable and enjoy every bit of the wild.

We have suggested here some of the most popular itineraries taken by our clients and we have also incorporated their valuable suggestions. However you can always customise this itineraries as per your requirement.
We have not placed the prices here as it is season dependent.

Itineraries
Places Covered :
Delhi - Shahjahanpur - Dudhwa - Nainital - Corbett - Dhikala - Ramnagar - Delhi
Places Covered :
Kolkata - Dibrugarh - Borajan - Tinsukia - Namdapha - Haldibari - Deban - Motijheel - Tinsukia - Dibru - Saikhowa - Kaziranga - Panbari - Nameri - Guwahati - Kolkata
Places Covered :
New Delhi - Kolkata - Sunderban - Dumdum - Bagdogra - Gozoldoba - Gorumara - Lava - Darjeeling - Manebhanjan - Sandakhphu - Gairibans - Tonglu - Megma - Darjeeling - Bagdogra - New Delhi / Kolkata
Places Covered :
Delhi - Nagpur - Kanha - Nagpur - Mumbai - Rajkot - Gir - Zinabad - Ahemdabad - Bangalore - Mysore - Nagarhole - Bangalore - Cochin - Periyar - Cochin - Bombay (Mumbai) / Delhi
Places Covered :
Guwahati - Tezpur - Agnigarh - Bomdila - Tawang - Dirang - Nameri - Kaziranga - Panbari Reserve forest - Jorhat - Nematighat - Shivsagar - Dibrugarh - Delhi
Places Covered :
Delhi - Jodhpur - Bera - Zinabad - Gir - Rajkot - Bombay - Bangalore - Mysore - Nagarhole - Bangalore - Cochin - Periyar - Cochin - Bombay - Delhi
Places Covered :
Delhi - Jaipur - Ranthambhor - Bharatpur - Agra - Khajuraho - Bandhavgarh - Kanha - Nagpur - Delhi
Places Covered :
Delhi - Nagpur - Kanha - Bandhavgarh - Khajuraho - Agra - Bharatpur - Jaipur - Delhi - Guwahati - Kaziranga - Guwahati - Delhi
Wildlife Tour Booking Form