HOME
-::- Corbett National Park
Corbett National Park
---
| | | |
| --- | --- | --- |
| Location of Corbett | : | Uttaranchal |
| Nearest Access to Corbett | : | Ramnagar |
| Coverage Area of Corbett | : | 1,200-sq-kms. |
| Climate of Corbett | : | Winter : varies between4°C and 25°C, Summer: 19°C - 46°C |
| Major Wildlife Attraction in Corbett | : | Tigers, Leopards, Crocodiles |
| Best Time to Visit Corbett | : | November 15 to June 15. |
About Corbett National Park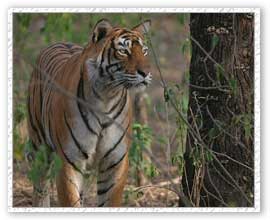 Nestling in the foothills of the Himalayas, the Corbett National Park extends over an area of 1318 sq. kms. Varied topography and vegetation gives Corbett a rich diversity in habitats and natural beauty. It was the first national Park to be established in India in the year 1936 and it was here that the prestigious "Project Tiger" was launched in 1973.
Corbett is avians paradise with around 600 species being recorded here and has numerous other mammalian species. Besides Tiger, Leopard one can also see Jungle cat, Leopard cat, Himalayan black bear, Sloth bear. Four species of deer- Hog deer,Sambhar , Chital and barking deer are found here. These herbivores can be seen in vast numbers in the chauds (vast grasslands with very high elephant grass). One can also see big herds of Indian elephants in these grasslands specially in summer. The Ramganga river flows through the park and a man made reservoir serves as the feeding ground for large number of birds. One can also see the Indian Marsh C

rocodile along with the long snouted fish eating Gharials. Another species quite common in this area is the Common Indian Otter.
Sal is the dominant tree species in Corbett with Jamun, Shisham, Khair, Mahua, Flame of the forest (Palash), Silk Cotton tree (Simal) etc. being the other tree species
Major Wildlife Attractions – Corbett
Corbett National Park was the first to be designated a Project Tiger Reserve in 1973. Situated at a distance of 300 kms from Delhi and 128 kms from Nainital, the Corbett National Park is best known for its big cats, especially the tiger.
The major attraction of Corbett is the Majestic Indian Tiger. Apart from Tigers, Corbett is endowed with variety of wildlife species like Leopards, leopard cat, elephant, jungle cat, fishing cat, Himalayan black bear, hog deer, chital, sambar, wild boar, barking deer etc.
Some of the birds commonly seen here are osprey, crested serpent eagle, black winged kite, shikra, pallas's fishing eagle, spotted eagle, minivets, shrikes, babblers etc. .
Wild Safari In the National Park

Jeep Safari in Corbett :
Jeeps Safari, is the most convenient way to travel within Corbett national park.
Park Safari Timings: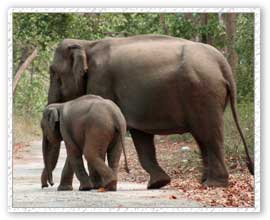 The park normally opens at 0600 hrs in the morning and is open till about 1100 hrs in the morning. In the afternoon the park timings usually are from 1430 to 1730. However, depending on the season the timings change locally which the forest authorities of Corbett notify.
How to be at Corbett National Park
Air :
Pantnagar at a distance of 50-kms is the nearest airport. Delhi at a distance of 300-kms is the nearest international airport.
Rail :
Nearest railhead is Ramnagar, 50 km from Dhikala Ramnagar is on the broad gauge track from where the road transport options have to be availed to reach the park.
Road :
Dhikala is 300-kms from Delhi, 145-kms from Lucknow and 51-kms from Ramnagar. The route from Delhi passes through Hapur-Muradabad-Ramnagar. The route from Lucknow is via Bareilly–Rudrapur–Kashipur.
Corbett National Park
Corbett is one of India's first national park lies north of Delhi. It is famous for rich wildlife and specially Bird life as well as rich flora of the Himalayan Foot hills. It has scenic views of the Himalayan foot hills and rivers like the Ramganga with rich sal forest. It is also one of the Tiger Reserve of India and is famous for Tigers, Leopards, Wild elephants, four species of deer, wild boar, sloth bear, etc. The excursions are done by Jeeps and also by elephants.
Park is open from 15th November to 15th June. Each year though it is possible to go the lodge for good birding in the neighborhood year-round.
Corbett National Park
Booking Form