HOME
-::-
Wildlife of South India
Wildlife of South India
---
Duration :
9 Days / 8 Nights
Destination :
Delhi, Banglore, Mysore, Cochine
---
Day 01 Delhi / Bangalore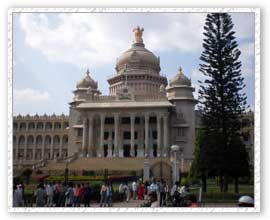 Morning transfer to the Airport for flight to Bangalore. Half day city tour of Bangalore including Tipu sultal's Palace, Bull Temple, Lalbagh Gardens, Ulsoor Lake, Vidhan Soudha, Museum. Overnight at hotel.
Day 02. Bangalore / Mysore Morning drive to Mysore, en route visiting the Ranganttittoo Bird Sanctuary. Overnight at Mysore.
Day 03. Mysore / Nagarhole
Morning city tour of Mysore including city palace, Chamarajendra Art gallery, St. Philomena's Church & Brindavan Gardens. . Later drive on to Nagarhole National Park (96km, 2 hrs.). Overnight at River Lodge. Nagarhole ( meaning Snake, Streams ) once the Maharajas' Reserve forest, become a national Park in 1955. Covering gentle hills it includes swamp land, streams, moist deciduous forest, stands of Bamboo, and Valuable timber in teak and rosewood trees. The park is accessible both by river & road. The park has Indian Bison, Dhole ( Indian Wild Dogs ) wild cats, four horned antelopes, flying squirrels, sloth bears, sambar deer,. Tiger & leopards are sighted infrequently. Overnight at Lodge.
Day 04 Nagarhole

Morning and evening Jungle excursion to the National Park. Overnight at Lodge.
Day 05 Nagarhole / Bangalore / Cochin

Drive to Bangalore (Five hour).From Bangalore flight to Cochin . Overnight at Hotel.
Day 06 Cochin / Periyar

Six hour drive to Periyar. Overnight at Hotel. Periyar sanctuary was designated a part of Project Tiger in 1973, though tigers are very rarely seen and it is better known for Elephants, which are very likely to be seen.
Day 07 Periyar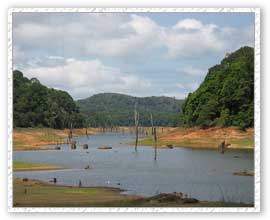 Morning and evening jungle excursions by boat, where we will likely see herds of elelphant froliking in the water, a spectacular site. During the day there you can take a walk in the woods for some excellent birding.
Day 08 Periyar
Full day jungle excursion of park. Overnight at hotel.
Day 09 Periyar / Cochin / Delhi or Bombay
Morning drive to Cochin to catch flight to Delhi or Bombay.
Wildlife of South India Booking Form