HOME
-:: -
Nature Tour – Sri Lanka
Nature Tour – Sri Lanka
---
Duration
: 10 Day / 9 Nights
Destination
: Colombo, Kandy
---

Day 01
On arrival in Colombo transfer to Sigiriya Village Hotel for two nights.
Day 02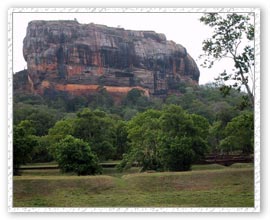 After breakfast climb the Sigiriya Rock Fortress, which was the pleasure capital of a single king called Kashyapa in the 5th century A.D. Sigiriya Sanctuary is also fantastic for dry zone birding. We look for the scarce resident Blue-eared Kingfisher. Late afternoon go on a jeep safari to Minneriya National Park to see wild elephants.
Day 03
After breakfast leave for Swiss Residence Kandy for two nights. En route visit Pinnawela Elephant Orphanage, which is home for more than 65 Elephants. The morning feeding could be observed at 9.15 a.m. where frolicking young ones are being bottle-fed milk. Soon after at 10.00 a.m. the Elephants are taken to a nearby river for their morning bath which is a popular tourist attraction. Late afternoon visit Temple of the Sacred Tooth Relic, Kandy, which is an object of veneration to Buddhists and the most important sacred relic in the country. Also do a city tour.
Day 04
After breakfast leave for St. Andrew's Hotel Nuwara Eliya for one night. Afternoon visit Horton Plains National Park to see Cloud Forests and rare montane fauna, which include the endemic Rhino-horned Lizard, which was featured in Charles Darwin's monumental work on evolution, Bear Monkey, Giant Squirrel and Sambhur. Walk though the grasslands and Cloud Forests to a popular viewpoint know as World's end, which is an escapement with a 870 m drop. We also look for endemic birds Yellow-eared Bulbul


and Sri Lanka Hill White-eye and Dull blue Flycatcher.
Day 05
Morning leave for Yala Safari Game Lodge for two nights. Afternoon, safari to Yala National Park. According to the Leopard Research sponsored by Yala Safari Game Lodge, under the Jetwing Research Initiative Yala Block 1 has one of the highest densities of Leopards in the world. Yala therefore offers one of the best chances in Asia to see Leopards. Other large animals you may see include Elephant, Sloth Bear, Mugger Crocodile, Spotted Deer, Sambhur, Barking Deer, Wild Boar, Wild Buffalo, Jackal, Grey Langur, Mongoose. Birding highlights include Malabar Pied Hornbill, Painted Stork, Lesser Adjutant and Black-necked Stork.
Day 06.
Morning and evening game drives to Yala National Park
Day 07

Leave for Centuria Hotel, Embilitiya for two nights. Late afternoon go on a game
drive to Udawalawe National Park. In a visit to Udawalawe National Park close to 50-60 Elephants can be seen and the Nursery Herd which comprise of many baby Elephants is one of the key attractions.
Day 08
Morning and evening game drives to Udawalawe National Park
Day 09
After breakfast leave for Galadari Hotel, Colombo (five star deluxe) for one night. Late evening do a Colombo Tour for shopping at Odel and Arena.
Day 10 Departure
Cultural India Tours Booking Form