HOME
-::-
Tribal Tour of Gujarat
Tribal Tour of Gujarat
---
Duration
: 20 Day / 19 Nights
Destination
: Ahmedabad, Zainabad, Kutch, Gondal, Sasan, Palitana, Ahmedabad, Danta, Balasinor, Udaipur, Jodhpur, Jaipur, Delhi
---
DAY-1: Ahmedabad/ Zainabad
Highlights: Vadiara Rabaris (cattle/camel herders, the women are known for their embroidery), Bharwads (sheep and goatherds, also known for their colourful attires and embroidery), Mirs (semi-nomadic group), Bajanias (semi-nomadic group) and Kolis (This community works as salt-gatherers in the Little Rann of Kutch).
Also visit the Little Rann of Kutch to see highly endangered Wild Ass and other animals.
Day-2: Zainabad/ Kutch (Approx six hours drive)
Highlights: Several nomadic and semi-nomadic communities on the route.
Day-3 & 4: Kutch

Highlights: Rabari, Ahir, Jath and their sub-groups.
Day-5: Kutch/ Gondal (Approx five hours drive)
Highlights: Rabari and Bharwad pastoral groups.
Other attractions: The palaces, handicrafts, bazaars, Bhuvaneshwari Ayurvedic pharmacy.
Day-6: Gondal/ Sasan (Approx three hours drive)
Highlights: Sorathi Rabari (Cattle herders) and Maldhari nesses (settlements of various pastoral communities).
Also excursion in Gir Wildlife Sactuary, the only place to see the Asiatic Lions in wild.
Day-7: Sasan
Highlights: Siddis (This community arrived in India from African in medieval time and has retained some of its traditions).
Also visit to the holy temple of Somnath and dhow-building (traditional boat) centre of Veraval.
Day-8: Sasan/ Palitana (Approx four to five hours drive)
Highlights: Bharwad and Koli communities, including local embroidery.
Visit the Jain temples atop Shatrunjaya Hill offering an insight into Jain religion and culture.
Day-9: Palitana/ Ahmedabad(approx four-and-a-half hours drive)
Highlights: Vaghri community and their cloth paintings called Mataji-ni-pachedi, Tribal Research Institute museum.
Day-10: Ahmedabad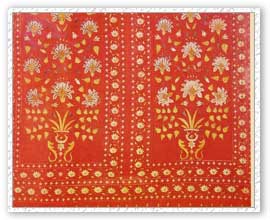 Highlights: Calico Museum of Textiles, Shreyas Folk museum.
Other attractions: A walking tour of Ahmedabad visiting the old quarters of the city with its historic buildings and traditional houses.
Day-11 & 12: Ahmedabad/ Danta
Highlights: Bhil and Garasia tribal villages, terra-cotta handicrafts.
Other attractions: Monuments of Vadnagar and Taranga.
Day-13: Danta/ Balasinor
Highlights: Bhil tribal dance.
Other attractions
Day-14: Balasinor/ Udaipur
Morning drive to Udaipur. On arrival transfer to the hotel.
Day 15: Udaipur
Morning half day s/s of Udaipur including City Palace , Museum, Sahelion ki Bari etc. Evening boat ride in Lake Pichola . Overnight at Hotel

Day 16: Udaipur/ Jodhpur
Morning drive to Jodhpur enroute visit the famous Jain temples at Ranakpur. Overnight at the hotel.
Day 17: Jodhpur
Full day s/s of Jodhpur , including Mehrangarh Fort, Umaid Bhavan Palace , Palace Museum , Jaswant Thada etc. Overnight at Hotel.
Day 18: Jodhpur/ Jaipur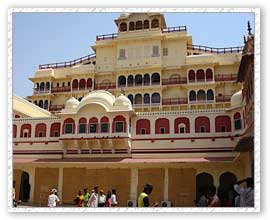 Today leave for Jaipur. Afternoon city tour of Jaipur, including City Palace, Museum, Palace of Winds (Hawa Mahal). Overnight at hotel.
Day 19: Jaipur/ Delhi
Morning excursion to the Amber Fort. Later proceed to Delhi. On arrival transfer to the hotel.
Day 20: Delhi
Full day city tour of Delhi covering places of Interest in Old and New Delhi.
Late evening transfer to the International airport for flight back home.
Cultural India Tours Booking Form