HOME
-::-
Temples of Kerala & Tamil Nadu - An Archaeological Discovery
Temples of Kerala & Tamil Nadu - An Archaeological Discovery
---
Duration
: 13 Day / 12 Nights
Destination
: Cochin, Alleppey/ Houseboat, Alumkadavu/ Kovalam, Trivandrum, Kovalam, Cape, Madurai, Trichy, Tanjaore, Darasuram, Gangalkondacholapuram, Chidambaram, Pondicherry, Mahabalipuram, Kanchipuram, Chennai
---

Day 01: Arrive Cochin:
Arrive Cochin and transfer to hotel for overnight.
Day 02: Cochin
AM S/S of Cochin covering St Francis Church, Mattanchery Palace, Jew town and its Synagogue and the traditional Chinese fishing nets. PM : Free. Evening witness Kathakali (traditional dance drama of Kerala). Overnight at hotel.
Day 03 : Cochin/ Alleppey/ Houseboat

AM : Transfer to Alleppey to board an ethnic ' Kettuvallam' - the cargo boat of yester years. Meticulously furnished, replete with a luxurious bedroom and bathroom.Complete with a cook and a boatman. House boat cruise in the direction of Alumkadavu ( near Kollam ) through the picturesque backwaters of Kerala. You are likely to see a cross section of village life along the picturesque backwaters like toddy tapping, coir making, fishing with Chinese nets etc. At night the boat will be moored in the canal or lake. Overnight House Boat
Day 04: Alumkadavu/ Kovalam ( 100 km / 3 hrs)
AM : Arrive Alumkadavu and transfer to Kovalam in a beach resort. Overnight.
Day 05: Kovalam/ Trivandrum/ Kovalam
AM : S/S of Trivandrum.
PM : Relax on the beach .Overnight at hotel
Day 06: Kovalam/ Cape (100 km / 3 hrs )
AM : Excursion to Kanya Kumari - also called Cape Comorin , the southern most end of the Indian sub continent where three seas - the Indian ocean, the Arabian sea and the Bay of Bengal meet and a holy place for Hindus. On the way visit the Padmanabhapuram Palace - a masterpiece in wood in a typical Kerala style. Further on to Suchindram temple - another masterpiece in granite - in south Indian Gopuram style temple. Later drive to Kanyakumari reach there by afternoon.
PM : Take a boat ride to the Vivekananda Rock temple where the great Hindu philosopher had spend a lot of time in meditation. Return to the main land and visit the Gandhi memorial and Devi Kanyakumari temple. After a spectacular sunset return to your hotel in Kovalam. Overnight at hotel.
Day 07: Cape/ Madurai ( 225 KM / 5 HRS)
AM : Drive to Maduari.Evening visit Meenakshi temple to witness the pooja ceremony (evening prayers). O/N at hotel.
Day 08: Madurai/ Trichy/ Tanjaore ( 225 KM /6.5 HRS)
AM : S/S of Alagar Coil, Teppakkulam & Naikers Palace. PM : Drive Tanjaore visiting Trichy - Rock Fort temple & Ranganathaswamy temple. Rest of the day free. Overnight at hotel.
Day 09: Tanjore/ Darasuram/ Gangalkondacholapuram/ Chidambaram/ Pondicherry ( 200 KM / 5 HRS)
AM : S/S of Brihadeswara temple and Palace. Further drive to Pondicherry enroute visting Darasuram, Gangaikondacholapuram and Chidambaram - Natarja temple. Overnight at hotel.

Day 10: Pondicherry/ Mahabalipuram( 160 KM / 4 HRS)
AM : S/S of Pondicherry covering Eglise de Sacre church, Sri Aurbindo Ashram & Auroville. PM : Drive to Mahabalipuram. Rest of the day free. Overnight.
Day 11: Mahabalipuram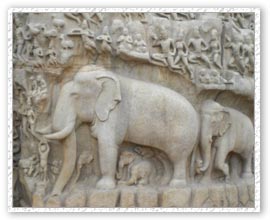 AM : S/S Mahabalipuram famous for its cave temples - Arjuna's Penance, Krishna temple, Mandapams & Mahishasuramardhini Cave. PM : Relax on the beach. Overnight at hotel
Day 12: Mahabalipuram/ Kanchipuram/ Chennai
AM : Drive to Chennai via visit of Kanchipuram ( 65 KM / 2 HRS) city known for its temples. Most popular is Ekambareswara temple, Kailasanath temple and Sri Kamakshi Amman temple. Further drive to Chennai. Rest of the day free. Overnight at hotel.
Day 13: Chennai
AM : S/S of Chennai covering Fort St.Geroge, Fort Museum, Kapaleeswar temple, St Thomas Cathedral and drive past Marina beach ( second longest beach in the world) Check out at 12 noon. Evening transfer and flight to onward destination.
Cultural India Tours Booking Form