HOME
-::-
Art & Architecture of Gujarat
Art & Architecture of Gujarat
---
Duration
: 18 Day / 17 Nights
Destination
: Ahmedabad, Palitana, Gondal/ Kutch, Zainabad, Patan, Danta, Mt. Abu, Udaipur, Jodhpur, Jaipur, Delhi
---
Day-1: Ahmedabad
Arrive Ahmedabad and check-in at House of Mangaldas, a heritage hotel in a 1924 AD ancestral mansion. Across the road from the hotel is the 16th century Sidi Syed Mosque, known for its intricate traceries. Visit the Calico Museum of Textiles, the Institute of Indology Museum and miniature paintings gallery, and Shreyas Folk Museum. Stay at House of Mangaldas.


Day-2: Ahmedabad/ Palitana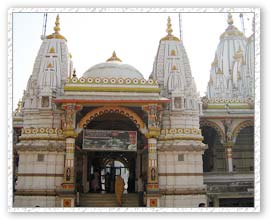 Morning walking tour of the old quarters of Ahmedabad. Organised daily by a conservation organisation, this walk includes the 18th century Swaminarayan Temple, a wooden Jain temple, a Hindu courtyard temple, beautiful carved wooden haveli houses and the 15th century Jumma Masjid, one of the finest mosques in India and a good example of the provincial Indo-Saracenic architecture of Ahmedabad. Depart for Palitana, a four-and-a-half hours drive. Meals and stay at Vijay Vilas, a heritage hotel.
Day-3: Palitana
Early morning ascent to the Jain temple covered pinnacle of Shatrunjaya Hill. A cluster of about 863 temples in an enclosure offers an insight into a variety of architectural styles from the 16th to the 19th century. Evening visit to Sihore to see Brahma Kund, a 12th – 13th century stepped tank with carvings, and visit the 17th century fort with murals inside. Return to Palitana for meals and overnight stay.
Day-4: Palitana/ Gondal
Depart for Gondal, three-and-a-half hours drive from Palitana, and visit the 1748 AD Naulakha Palace which is a festival of stone carvings, Swaminarayan Temple and other sights. Gondal is known for its beadwork and brassware. Stay at Orchard Palace or Riverside Palace, both heritage hotels.
Day-5: Gondal
Morning trip to Mt Girnar, atop which is a complex of exquisitely carved Jain Temples. Descend and visit the fort, palace and museums of Junagadh. Return to Gondal and stay at a heritage hotel.
Day-6: Gondal/ Kutch
Travel to Kutch. Afternoon visit to nearby villages known for their embroideries and other handicrafts. Meals and stay at the resort.
Day-7: Kutch
Day trip to Vijay Palace at Mandvi. Built in the colonial period, this palace reflects a variety of architectural styles. Return to Kutch via Bhuj, which is known for its monuments.
Day-8: Kutch/ Zainabad
Travel to Zainabad on a road passing historic towns like Halwad with the ornamental facades of their forts and palaces viewable from the highway.
Day-9: Zainabad/ Patan/ Danta
Morning visit to the Little Rann of Kutch Wildlife Sanctuary where you can see endangered species like the Asiatic wild ass. On the way back, drive through the historic gates of Jhinjhwada, a fortified village of the 12th century. Depart after breakfast for the Modhera Sun Temple, an exquisite example of 11th century Hindu devotional architecture with fine carvings, and the 11th century Rani-ki-Vav stepwell at Patan, which is also a silk-weaving centre. Continue to Bhavani Villa, a heritage hotel at Danta, for dinner and night stay.
Day-10: Danta/ Mt. Abu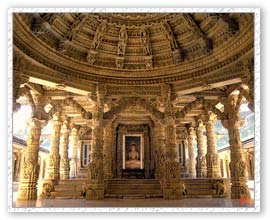 Morning visit to the 12th century Jain temple at Taranga and the 11th to 17th century monuments of Vadnagar. Later continue to Mt. Abu, the only hill station in Rajasthan.
Day 11: Mt. Abu
Morning tour of Mt. Abu visiting the famous Jain temple of Dilwara. Late afternoon visit the Guru Shikhar to witness the sunset.
Day 12: Mt. Abu/ Udaipur
Morning drive to Udaipur. On arrival transfer to the hotel.

Day 13: Udaipur
Morning half day s/s of Udaipur including City Palace , Museum, Sahelion ki Bari etc. Evening boat ride in Lake Pichola . Overnight at Hotel
Day 14: Udaipur/ Jodhpur
Morning drive to Jodhpur enroute visit the famous Jain temples at Ranakpur. Overnight at the hotel.
Day 15: Jodhpur
Full day s/s of Jodhpur , including Mehrangarh Fort, Umaid Bhavan Palace , Palace Museum , Jaswant Thada etc. Overnight at Hotel.
Day 16: Jodhpur/ Jaipur
Today leave for Jaipur. Afternoon city tour of Jaipur, including City Palace, Museum, Palace of Winds (Hawa Mahal). Overnight at hotel.
Day 17: Jaipur/ Delhi
Morning excursion to the Amber Fort. Later proceed to Delhi. On arrival transfer to the hotel.
Day 18: Delhi
Full day city tour of Delhi covering places of Interest in Old and New Delhi.
Late evening transfer to the International airport for flight back home.
Cultural India Tours Booking Form